In Your Home
For Adults to Age ? ……..never too late to learn !
I have a love of music with a desire to help others who want to achiev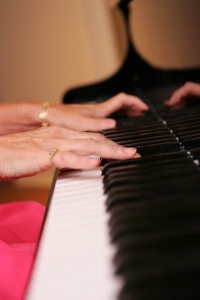 e their highest musical potential!  I've been a piano teacher for close to 15 years. I find it very rewarding teaching my students the in's and out's of music: piano technique, music theory, and even learning their favorite songs. I am not the traditional teacher that is prevalent in music teaching. I use my experiences as a professional entertainer to teach chord structure, overcoming stage fright and musicality in expressing themselves.
I take a personal interest in each student I teach carefully determining how they learn and encouraging them at every opportunity. I use a combination of simple elementary techniques and chord/music theory instruction to be sure they understand how music works and is put together.
I can't count the number of times during a performance when a guest would come up to me and express regret on quitting piano lessons as a child.  It is never too late to start anything !  I collaborate with the adult to fulfill their dreams and goals in making music to enjoy for themselves.  No age is too old.
You will have the benefit of being taught by a professional performing musician. I will teach you how to fight stage fright, memorize music and express yourself through the pieces you learn.
What's the Cost?
I work within your budget to make it painless to afford lessons.  No more fighting traffic after work only to fight traffic again to get to your lesson on time. Save time and frustration by having the lessons in your home.
 The Highest Integrity
I hold myself to a standard that's higher than anyone else in the industry.  I am reliable, trust-worthy and demand no more than the student wants to give.  Put me to the test, and you'll see.
Contact me for your free trial lesson – at NO obligation !
Your Goals – Not Mine !
I'd love to discuss what musical training you've already had and your goals–whether you want to turn pro or just enjoy music for the rest of your life.  Giving piano lessons has been a rewarding addition to my job as a music professional.
I love to see the light bulb go off in a student when the concept I'm teaching them "takes".  Simply put, my mission is devoted to you–making the most of your musical talent and helping you achieve your goals.
===================================================================================
"I decided at age 39 to learn how to play the piano. Thank goodness I found Debra !  She has been patient, encouraging and knowledgeable. It truly is never too late to learn."            Liza G.
Comments or questions are welcome.