"Patients with Alzheimer's disease are better able to remember new verbal information when it is provided in the context of music".

Boston University School of Medicine study, May 2010
"Music brings back pleasant memories and comforts the heart".
Debra Lieb, Jan 1981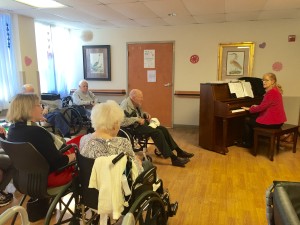 I said it first !!   I so love the elderly !  They are my favorite people to be around  So much information those minds possess and such loving hearts ! 
"Thank you for the lovely piano music. The residents have been commenting about what a talented pianist you are and how much they enjoyed having you play for them during the birthday dinner.  I hope you will return when possible and maybe we can arrange for you to come at a time when you can sing too.  Thank you !"             L. Mayer;  Clairmont Place
Download the Program Flyer for more information.  Program Description 2019
Write me about your residents and when I can bring my music to them !